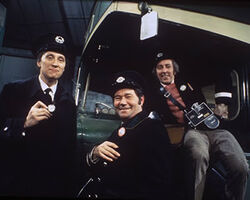 On the Buses is a British sitcom created by Ronald Wolfe and Ronald Chesney, broadcast in the United Kingdom from 1969 to 1973. This was shown on the ITV Network.
The writers' previous successes with The Rag Trade and Meet the Wife were for the BBC, but the corporation rejected On the Buses, not seeing much comedy potential in a bus depot as a setting. The comedy partnership turned to a friend, Frank Muir, Head of Entertainment at London Weekend Television, who loved the idea; the show was accepted and despite a poor critical reception became a hit with viewers.[1]
Ad blocker interference detected!
Wikia is a free-to-use site that makes money from advertising. We have a modified experience for viewers using ad blockers

Wikia is not accessible if you've made further modifications. Remove the custom ad blocker rule(s) and the page will load as expected.