The topic of this page has a wikia of it's own: Mr Bean Wiki.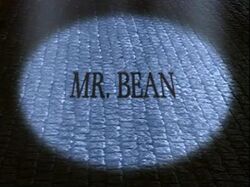 Mr. Bean is a British comedy television programme series of 14 twenty-five-minute episodes written by and starring Rowan Atkinson as the title character.
Different episodes were also written by Robin Driscoll, Richard Curtis and one by Ben Elton. The pilot episode was broadcast on ITV1 on 1 January 1990, with the last television episode, "Goodnight Mr. Bean" broadcast on 31 October 1995.The final episode, "Hair by Mr. Bean of London", was a video exclusive released on 15 November 1995, but not broadcast in the UK until 2006
Ad blocker interference detected!
Wikia is a free-to-use site that makes money from advertising. We have a modified experience for viewers using ad blockers

Wikia is not accessible if you've made further modifications. Remove the custom ad blocker rule(s) and the page will load as expected.