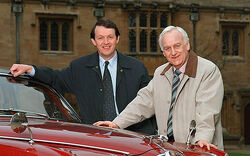 Inspector Morse is a British detective drama television series based on a series of novels by Colin Dexter. It starred John Thaw as Chief Inspector Endeavour Morse and Kevin Whately as Sergeant Robbie Lewis.
The series was first shown on Britain's ITV network, was made by Zenith Productions for Central Independent Television. Later, it was produced by Carlton UK Productions between 1995 and 1996. Towards the series end, it was made by Carlton and WGBH.
Ad blocker interference detected!
Wikia is a free-to-use site that makes money from advertising. We have a modified experience for viewers using ad blockers

Wikia is not accessible if you've made further modifications. Remove the custom ad blocker rule(s) and the page will load as expected.