Featured ITV Show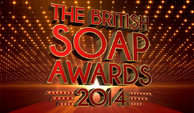 The British Soap Awards on ITV 1 at 8:15pm Sunday 25th May 2014. Don't miss it. VOTING IS NOW CLOSED, Lets give EastEnders, Emmerdale, Coronation Street, Hollyoaks and Doctors the best of luck for the British Soap Awards.

Don't miss Coronation Street next week as we see Tina being pushed over the balcony by either Peter, Carla, Rob or Tracey. Join the chat on Twitter and put either #CarlaKillsTina #PeterKillsTina #RobKillsTina #TraceyKillsTina at the end so who do you think kills Tina?
Other ITV Wiki Sites
Ad blocker interference detected!
Wikia is a free-to-use site that makes money from advertising. We have a modified experience for viewers using ad blockers

Wikia is not accessible if you've made further modifications. Remove the custom ad blocker rule(s) and the page will load as expected.