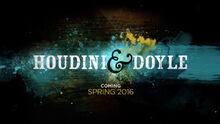 Houdini & Doyle is a British-Canadian-American television drama series based on the friendship of Harry Houdini and Sir Arthur Conan Doyle. A 10-episode first season was ordered by Fox in the United States, ITV in the United Kingdom, and Global in Canada. The pilot episode was written by co-creators David Hoselton and David Titcher. The first episode was broadcast on ITV on Sunday 13 March 2016.
At the turn of the 20th century the Metropolitan Police were overwhelmed with bizarre cases so they turned to outsiders including Houdini and Doyle, who collaborated with New Scotland Yard on some unsolved and inexplicable crimes.
Ad blocker interference detected!
Wikia is a free-to-use site that makes money from advertising. We have a modified experience for viewers using ad blockers

Wikia is not accessible if you've made further modifications. Remove the custom ad blocker rule(s) and the page will load as expected.