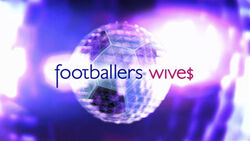 Footballers' Wives (stylised as Footballers Wive$) is a British television drama surrounding the fictional Premier League Association football club Earls Park F.C., its players, and their wives.
It was broadcast on the ITV network from 8 January 2002 to 14 April 2006. The show began with a multi-lateral focus on a variety of different types of relationships explored; however, from the third series onward, the primary focus was on a complex love triangle between Tanya Turner (Zöe Lucker), Amber Gates (Laila Rouass) and Conrad Gates (Ben Price).
Ad blocker interference detected!
Wikia is a free-to-use site that makes money from advertising. We have a modified experience for viewers using ad blockers

Wikia is not accessible if you've made further modifications. Remove the custom ad blocker rule(s) and the page will load as expected.