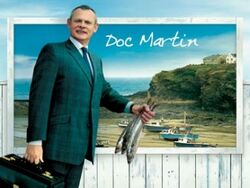 Doc Martin is a British television comedy drama series starring Martin Clunes in the title role. It was created by Dominic Minghella after the character of Dr. Martin Bamford in the 2000 comedy film Saving Grace. It was broadcast on the ITV Network on ITV1.
The show is set in the fictional seaside village of Portwenn and filmed on location in the village of Port Isaac, Cornwall, United Kingdom, with most interior scenes shot in a converted local barn. Five series aired between 2004 and 2011, together with a feature-length special that aired on Christmas Day 2006.
Ad blocker interference detected!
Wikia is a free-to-use site that makes money from advertising. We have a modified experience for viewers using ad blockers

Wikia is not accessible if you've made further modifications. Remove the custom ad blocker rule(s) and the page will load as expected.