The topic of this page has a wikia of it's own: Demons Wiki.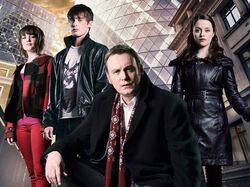 Demons is a British six-part supernatural drama TV series produced by Shine Productions, which premièred on ITV on 3 January 2009.It was produced by the same company that made the Sky1 supernatural drama Hex and the BBC One fantasy series Merlin. The DVD of the one series made was released on 6 April 2009.
The plot follows the adventures of a London teenager Luke Rutherford, who learns that he is the last descendant of the Van Helsing line by the sudden arrival of his American godfather Rupert Galvin.
Luke is charged with the role of smiting the gathering dark forces of the world whilst trying to live an ordinary life of exams and parties. Rupert Galvin helps train Luke with the assistance of Mina Harker, a blind vampiric concert pianist and authority on half-lives (i.e., vampires, demons, zombies, and werewolves). Luke's best friend Ruby also joins in on the action
Ad blocker interference detected!
Wikia is a free-to-use site that makes money from advertising. We have a modified experience for viewers using ad blockers

Wikia is not accessible if you've made further modifications. Remove the custom ad blocker rule(s) and the page will load as expected.